Welcome to the December Joyful Stars Blog Hop! We are a group of Close to My Heart consultants who share something each month on the 9th and at 9PM EST. If you are coming from
Donna Ackley Long's blog
you are on the right track.
(The complete lineup is also on
Joyce's blog
in case you get lost.) Have fun being inspired!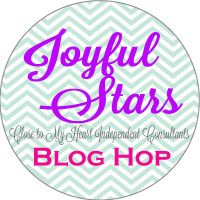 One of my favorite stamps from the December Stamp of the Month Thoughtful Flowers is this poinsettia stamp. I colored it several times with our Shin Han Touch Markers (Carmine and Tender Pink) and then used the CTMH Clear Shimmer Brush on the center petals. I used a 1/4" hole punch to cut the flower centers from CTMH Gold Shimmer Trim.
Here is a closeup so you can see the sparkle on the top leaves made by the Clear Shimmer Brush:
Light Cerulean Blue Shin Han Touch marker (to create lines on top panel)
Tender Pink Shin Han Touch Marker (base layer of color on top of flower)
Carmine Shin Han Touch Marker (several coats on top flower petals and bottom flower petals)
Now it's time to head on over to Donna Thomson Digby's blog to see the awesome project she has to share this month.
Thanks for stopping by! Have a wonderful week filled with fun and creativity!
:) Marie
P.S. If you like what you see on my blog please consider becoming a follower of my blog so you won't miss any of my fabulous projects.